Search
JASAL 2018 X SUTLF 5
"Making Connections"
JASAL 2018 X SUTLF 5
This year the Japan Association for Self-Access Learning (JASAL) will hold their 2018 conference as a joint event with the Sojo University Teaching & Learning Forum (SUTLF), 14-16 December at Sojo University in Kumamoto. This year's plenary Speaker is
Tomomi Kumai
. For more information, visit the
JALT Nankyu Chapter
home page.
Follow us on Facebook
Learning Learning Recent issues
Announcements and Up-coming Events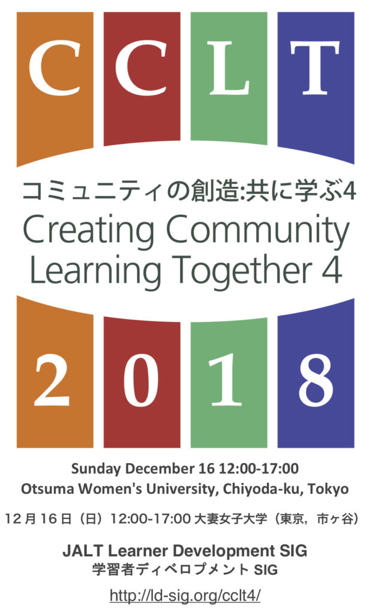 CCLT4 in Tokyo
16 December 2018
Otsuma Women's University, Tokyo Japan
We are proud to announce that the first issue of The Learner Development Journal, "Visualizing Learner Development," is now online! The full issue is available for download, as well as each of the individual papers.
The LDJ Journal Volume 2 coming soon!