Kansai Get-togethers
Welcome to the LD SIG Kansai Get-togethers Page.
Kansai Get-togethers are usually held at Hito Machi Koryukan Community Centre in Kyoto. They are a blend of personalized discussion about research or curriculum agendas, as well as a providing a place to discuss current issues facing English instructors.
Our next two meetings are scheduled for Saturday, 18 February and Saturday, 18 March, 2017. We'll also be hosting our second student conference, K2W: Kansai To the World on June 11th at Kyoto University. Please watch this space for updates, and get in touch to receive Kansai Get-together announcements.
Where:
Hito Machi Koryukan Community Centre – www.hitomachi-kyoto.jp
〒600-8127 京都市下京区西木屋町通上ノ口上る梅湊町83-1
Directions:
From Kyoto station — it is a twenty minute walk north on Kawaramachi
From Kiyomizu Gojo — it is a five minute walk over the bridge and down along Kawaramachi
Map: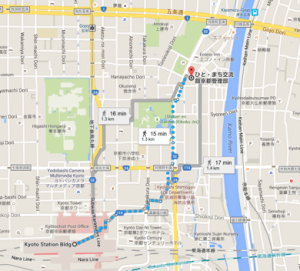 For more information please contact us:
ldkansaigettogethers@gmail.com
Anita Aden – strawberry2410@gmail.com, or
Follow our FaceBook Group
Kansai Get-together Reports
Get-together No. 1
Get-together No. 2
Get-together No. 3
Get-together No. 4
Get-together No. 5
Get-together No. 6