Kansai Get-togethers
Welcome to the LD SIG Kansai Get-togethers Page.
Kansai Get-togethers are usually held at Hito Machi Koryukan Community Centre in Kyoto. They are a blend of personalized discussion about research or curriculum agendas, as well as a providing a place to discuss current issues facing English instructors.
Our next meeting is scheduled for Saturday, 23 April, 2017. We'll also be hosting our second student conference, K2W: Kansai To the World on June 11th at Kyoto University. Please watch this space for updates, and get in touch to receive Kansai Get-together announcements.
Where:
Hito Machi Koryukan Community Centre – www.hitomachi-kyoto.jp
〒600-8127 京都市下京区西木屋町通上ノ口上る梅湊町83-1
Directions:
From Kyoto station — it is a twenty minute walk north on Kawaramachi
From Kiyomizu Gojo — it is a five minute walk over the bridge and down along Kawaramachi
Map: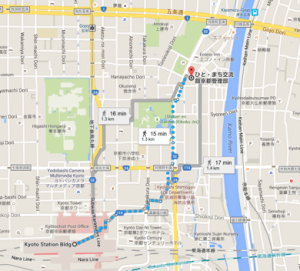 For more information please contact us:
ldkansaigettogethers@gmail.com
Agnes (Agi) PATKO,
Follow our FaceBook Group
Kansai Get-together Reports
Get-together No. 1
Get-together No. 2
Get-together No. 3
Get-together No. 4
Get-together No. 5
Get-together No. 6