Issue one
{placeholder text for JALT Learner Development SIG Journal, issue no. 1}
Search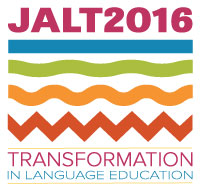 JALT2016, Nagoya, 25-28 November!
Join us in Nagoya, 25-28 November!
Announcements & Up-coming Events
June 2016 saw the publication of a limited run of 3.11 Looking Back: This Past Year after For more information please see the 3.11 Looking Back web site.
ESSAC Conference 15 October
Empowering Students in Self Access Conference (ESSAC), Saturday 15 October at KUIS. The CFP deadline has now been extended to Friday, 30 September. Stay connected with the ESSAC Facebook page.
Tokyo Get-togethers
The most recent Tokyo Get-together
was held on Sunday October 23 14:00-17:00 at Otsuma Women's University. Watch this space for the link to an updated report on the discussions of the day.
This year's Creating Community: Learning Together 3 conference will be held on Sunday December 18. To submit a proposal see the online proposal page. (The deadline for submitting proposals has been extended to 6 November 2016.)