LD SIG Kansai Get Together #5 April 17th, 2016 10:30 – 12:30
In attendance: Agi Patko, Katherine Thornton, Gretchen Clark, Richard Silver, Jennifer Teeter, Shuji Narita, and Anita Aden
Absentees: Ann Flanagan and Mary Hillis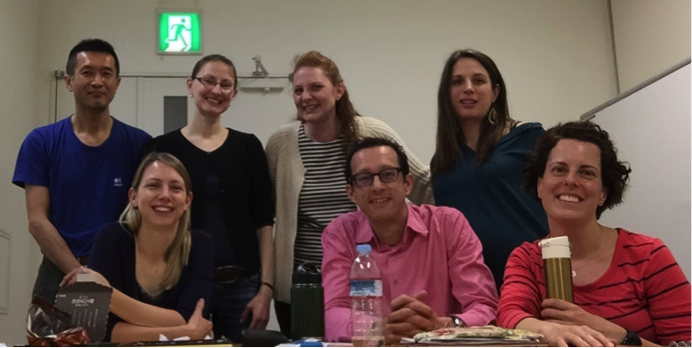 LD SIG Kansai Get Together 2016 Schedule
When: NEW DAY = Saturday mornings, from 10:30 am for approximately 2 hours.
Upcoming dates: May 14th, June 11th, July 9th, (No August meeting), September 24th, October 8th, November 12th, December 10th
Where: Hito Machi Koryukan Community Centre (Kyoto)
〒600-8127 京都市下京区西木屋町通上ノ口上る梅湊町83-1
Dates are subject to change, but we hope this will help people to plan ahead & come!
Homework for next month's Get Together: Prepare a sample of how you grade your students work and how students reflect on the feedback that you give them.
Kansai Get Together #5 discussion highlights:
As the new academic year began in April, we began with a short discussion about new teaching positions and new challenges in our current jobs. The support and camaraderie found in this LD SIG group makes gathering together a positive experience each month.
From last month's gathering at the CEFR conference, we summarized the main points of the workshops for those who were not able to attend. The e-portfolios (hosted by the Mahara platform) are not commonly used in Japan and they are better suited to companies requesting for personalized resumes from potential employees. Currently, there are some schools using the CEFR-J in their 'Can Do' statements to identify students' levels of English ability. One of the limitations of the CEFR is the reality that most students do not move beyond the basic levels of A1 – B1. Students benefit more when teachers help them to evaluate the smaller increments of skill building success, such as going from a 2-minute presentation to a 10-minute presentation.
Link: www.cefr-j.org
Today's focus was on the grading tool of rubrics. The accuracy of giving a score and the expectations of grading can defined more clearly through rubrics. The first example was from a Self Access Learning Centre course where the students signed up to meet with an instructor to plan out expectations of their personal learning goals. They are personally responsible for achieving these goals, but it was necessary to make a rubric so that students' progress could be assessed for a grade. Students submitted journals of their personal reflections after they were taught how to evaluate their learning achievements by using the tool of SURE: Study, Use, Review and Evaluate.
The next discussion was about using a simplified rubric for the TOEIC that helps students to practice the specific skills needed to improve their scores. Recording and listening to classmates' essay questions / answers was graded on a 12-point scale. The feedback provides students will a clearer understanding of the skills they need to improve, in addition to the constructive comments provided by the teacher.
Link: www.etsglobal.org
An essay self-check sheet was outlined and described by Narita sensei for the TOEFL writing section. It was based on a 6-point scale with specific areas being targeted. One of the challenges that students encounter is learning how to give examples to support their main ideas. Including specific examples can increase a students' score to the next proficiency level.
There was a brief discussion about creating an event for students to meet together or for students to do a poster presentation on a topic of their choosing.
In response to this idea, Agi described the Creating Community: Learning Together event from December 2015, where the LD SIG in Tokyo brought together students and teachers in a joint program of presenting posters on various topics.
Link: https://ld-sig.org/creating-community-learning-together/