Talking Points May 2015
Motivating Students through English Camp
Naomi: Hi Jim! So, today we're going to talk about an English camp that your students participated in at your university just recently. First of all, when was it?
Jim: The camp was held over four days in the last week of March. We started after lunch on the first day, and finished after lunch on the fourth. This is probably the seventh year we've had the camp.
Naomi: We've never had an English camp at our university, so this is really interesting for me. Who joins the camp?
Jim: This year a total of 33 participants signed up, with about 20 of those right at the end of their first year at university, eight or nine second year students, and just a couple in their third and fourth year. The older students are mostly repeaters, joining for the second or third time, and it's great to have them join us – they are a model for the younger students of just letting go and having fun, and of using English as much as they can.
Until this year the camp has only been for English Department students. This March we had students drawn from various faculties, but the majority still English Department students. Students from our new Global Course were very strongly – and officially – encouraged to join the camp, while for all others it's promoted as something worth joining, and lots of fun.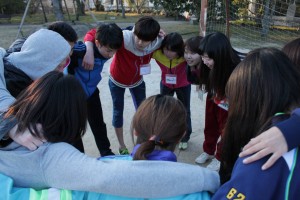 Naomi: What do you do during the camp?
Jim: Anything except study! And as much as we can, everything in English. On the train to work, as I was thinking about this question, I met a student from the camp and we talked about it. This was mostly her list of what we do in the camp: "talking with many people about everyday things, dancing and singing, playing games, (fun) debates, cooking (I just cut up potatoes!), skits, performances, eating…"
Naomi: Do English teachers participate? What is the ratio of native English and non-native English teachers?
Jim: We have a mix of English teachers from our university and junior high / high school teachers. This year a Japanese learning advisor joined us, and it was great to have him along for who he is – a Japanese person who is always willing to speak English – and as someone with experience of studying abroad. And because sports, music, and food are central to the camp, we want teachers who are confident and capable of leading these activities. Over the years, we've been blessed with really amazing, variously talented teachers, so for us being part of the camp is also a real teacher development experience.
Naomi: Can you tell me more about this teacher development side?
Jim: You meet teachers with various talents – at music, cooking, sports, bonding games. And we have chances to learn from each other, whether helping with the activities or just joining in. We never have time to be taking many notes, but certainly what I have learned through the English camp impacts my teaching in various ways: in the focus on something other than English, with having fun as a major goal, from the freedom to try new activities, to seeing how things can be done differently.
Naomi: Could you give an example of a really good activity?
Jim: I'll tell you about a couple of activities! One is an outdoor activity, and uses a kind of spider's web made from luggage straps stretched between two trees. The goal is for a whole team to get from one side of the web to the other through the holes in the web – only two per hole – without touching the lines of the web. One or two people can get through the lower holes unaided, but then after that you have to be carrying and feeding each person through the higher holes. It's funny, it involves language, it involves breaking down some inhibitions.
Naomi: So if you touch the strap then you're out, or…
Jim: Well, in theory the spider's going to wake up, come down and catch you – but I think the spider was a bit sleepy that day!
Naomi: Tell us about another type of activity.
Jim: Last year, for the first time we realized that in the camp we had students who had recently returned from four different study abroad programs – university programs or privately arranged programs. We just set up circles of chairs in the four different corners of a room, one for each study abroad program, and the students spent about 10-15 minutes talking in English about their study abroad experience and asking questions, before moving on to the next corner. They were a great audience, and it was a valuable experience for the students who had been abroad. All we facilitators could do was look on in wonder!
Naomi: That is a great idea. I might suggest something like this at our L-cafe since we have so many students who've had experience studying abroad. So, is the camp held on campus or somewhere else (such as a campsite)?
Jim: Our camp is held on campus. We stay at a kind of lodge which has bedrooms, a kind of classroom, a big kitchen and a dining area. We also use various other facilities: the gym, the sports ground, the music room, and our new iCafé!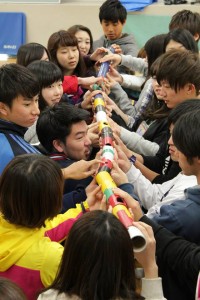 Naomi: How much preparation is done before the camp?
Jim: A lot! Starting about four months before the camp, we start planning: thinking about the goals of the camp and how to realize them, asking teachers to join us, promoting the camp, and working with the administration on budget issues and room booking. In the last month or so, students register for the camp and there's quite a lot of communication with them, and we finish preparing the camp schedule and booklet. The final week is quite busy with shopping for food, stationery, etc.
Naomi: What kind of follow up (if any) is done after the camp?
Jim: In past years we've had barbecue reunions with the campers. Maybe this year, too, or we might have a party on campus. Otherwise, we keep in touch with the students, and they with us and each other – campers post a lot of pictures on Facebook, for example – and we tell them about English/international events they can join, too.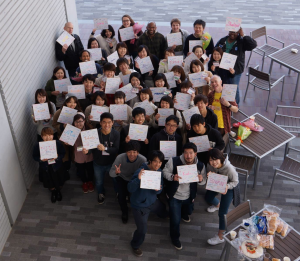 Naomi: It sounds like a great experience for all involved! The students can have fun while learning English, as well as make friends and continue both their friendships and their English through online social networking. Thanks so much for sharing with us this month, Jim!